Captive Shot Blasting
At Blast Technology Ltd we have machines capable of dealing with any coatings, whether it be a failed coating or laitance removal our captive shot blasting methods offer a dust-free experience with very low noise output, often enabling business in the surrounding areas to carry on as normal whilst we prepare the floor.
Captive shot blasting is a technique we use with the aim of quickly removing any existing floor covering and is often used for car parks, public areas, factories and business premises.
Our Machines
Our captive shot blast machines are produced by Blastrac. Blastrac Systems are industry standard machines used by contractors all over the world, they are often suggested for use with a range of applications and many coating manufacturers suggest them as the number one choice for floor preparation.
The machines we come equipped with also include on-board generators and compressors which mean that we are fully self sufficient when working in your premiss, allowing us to be less of a distraction and leaving the area open to additional works or functional use of the rest of the building during working hours.
Unsure on the best method for your floor?
If you are not sure whether captive shot blasting might be the right method for your building then please speak to one of our specialists at Blast Technology Ltd who will be able to assist you with the best method of floor preparation. In order for us to give you an accurate quote please let us know the dimensions of the floor you would like us to prepare.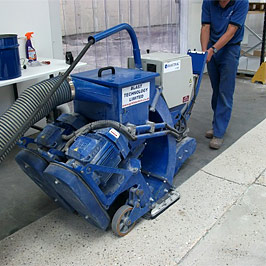 State of the Art Equipment
We utilise a comprehensive range of state of the art equipment supplied by Blastrac. Blastrac systems are the preferred method for surface preparation used by professional contractors and recommended by coating manufacturers for a wide range of applications.
Correct preparation is vital to any floor installation, and with 24 years experience in surface preparation we feel we are more than able to advise on and provide the correct method of preparation.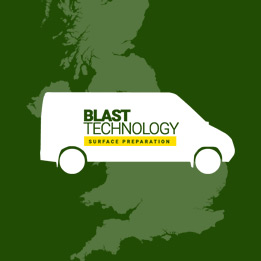 Across the UK
Blast Technology are based in Leicestershire in the Midlands and provide a nationwide service throughout the UK using our own fleet of vehicles fitted with onboard generators and compressors. This gives us the flexibility of being fully self-sufficient and without the need of any on-site power requirements.