Car Park Shot Blasting
Concrete Floor Preparation & Shot Blasting Experts
Over the years Blast Technology Limited has successfully prepared many new and existing car park surfaces. Floor sizes range from under a thousand square meters to well over twenty-five thousand square meters. We are experts in concrete car park shot blasting services with over 30 years experience.
On new concrete, we quickly and easily remove laitance and provide the client with a U4 finish suitable to accept many surface coatings and finishes.
On existing concrete, we are able to quickly prepare or re-texture the existing surface either to provide an anti-slip finish or in readiness for a new coating.
Based in Leicestershire we provide a national car park floor preparation and dust-free captive shot blasting service. Our UK clients range from office parking spaces to multi-story shopping car parks. For a fast free shot blasting quote call today on 01509 412 622 or apply online.
Captive Shot Blasting Explained
Shot Blasting is a process of removing a concrete floor covering in preparation for a new coating.  Shot Blasting provides a perfect surface for the new coating. Captive Shot Blasting uses the same menthod as Shot Blasting but captures and dust during the process. This makes Captive Shot blasting ideal for environments, such as public or private car parks, where dust contamination is unacceptable.
What other blasting services do we provide?
State of the Art Equipment
We utilise a comprehensive range of state of the art equipment supplied by Blastrac. Blastrac systems are the preferred method for surface preparation used by professional contractors and recommended by coating manufacturers for a wide range of applications.
Correct preparation is vital to any floor installation, and with 24 years experience in surface preparation we feel we are more than able to advise on and provide the correct method of preparation.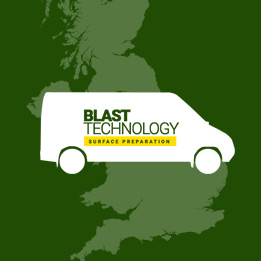 Across the UK
Blast Technology are based in Leicestershire in the Midlands and provide a nationwide service throughout the UK using our own fleet of vehicles fitted with onboard generators and compressors. This gives us the flexibility of being fully self-sufficient and without the need of any on-site power requirements.