Industrial Floor Preparation Services
Your experts in Floor Shot Blasting, Sandblasting, Open Blasting & Grit Blasting
Blast Technology are UK leaders in Dust-free Captive Shot Blasting services, Sandblasting, Open Blasting and Mobile Grit Blasting. If you have an industrial concrete floor in need of cleaning or preparing, we are here to help. From car parks to warehouse floors and roads. We are based in Leicestershire and provide a fast, competitive and nationwide service with customer satisfaction at our core.
At Blast Technology, we have the equipment and experience to suit your business and your budget. We use the latest in compact, dust-free and low noise captive shot blasting technology for preparing and cleaning concrete floors. We will blast off dirt, coatings and lines leaving your concrete floor clean and ready for any new surface coatings. No floor is too big or too small – indoor or outdoor.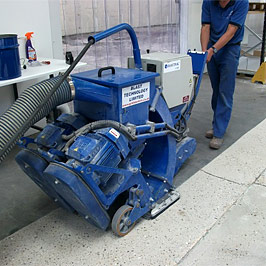 Industrial Floor & Surface Preperation Services
State of the art Blast Cleaning Equipment
We utilise a comprehensive range of state of the art equipment supplied by Blastrac. Blastrac systems are the preferred method for surface preparation used by professional contractors and recommended by coating manufacturers for a wide range of applications. Correct preparation is vital to any floor installation, and with over 30 years experience in surface preparation we feel we are more than able to advise on and provide the correct method of preparation.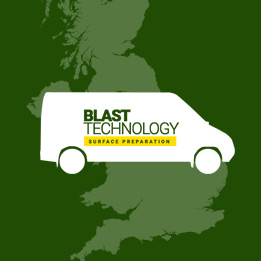 National Floor Preperation Services
Captive Shot Blasting Across the UK
Blast Technology are based in Leicestershire in the Midlands. We provide a nationwide service using our own fleet of vehicles fitted with onboard generators and compressors. This gives us the flexibility of being fully self-sufficient and without the need of any on-site power requirements. Contact us today for a shot blasting or floor preparation quote. REQUEST A SHOT BLASTING QUOTE ONLINE